Birds of prey are known for their strength and power, but just how powerful are they, and is it true that one breed of bird can pick up a human? There's a lot of misinformation out there about what bird can carry the heaviest weight, so today I will explain what the truth is.
What bird can carry the most weight? Eagles are the bird of prey that can carry the most weight in flight. Eagles have been known to carry objects that are many times their own weight, making them one of the strongest birds on the planet.
Let's look at some of the different eagle breeds that can carry the most weight in flight and what makes them so special. Plus, whether a bird can carry a human or not.
What bird can carry the most weight (ranked)
Bald Eagles
Bald eagles can lift weights of up to 6 pounds easily. They can fly with prey that is at least half of their weight, but they are more likely to drop the prey for them to maintain flight.
Bald eagles are known for their massive wingspan and sharp talons. However, they are also very strong creatures. The largest recorded weight that a bald eagle has carried was a total of 15 pounds of lifting a mule deer fawn under the right wind conditions. 
These large birds have a wingspan between seven and eight feet. They weigh somewhere around 14 pounds which is impressive considering how large they are!
To put the strength of these birds into perspective, realize that they are on average more than twice the size of a turkey vulture and their wingspan is roughly equivalent to that of an adult human. 
These birds also do not often attack prey larger than themselves, but when it comes time to feed they can easily pick up an animal as large as a mule deer fawn with favorable wind conditions… but only for a few seconds before having to drop it.
Harpy Eagles
Female Harpy eagles weighing up to 9 kg (20 lbs) are very capable predators that have been recorded to carry a weight of their own body weight or larger, making them the birds with the most weight carrying capacity in the world.
The Harpy eagle is a large species of eagles that are endemic to Central and South America. They are found in tropical rainforests where they feed mainly on monkeys, sloths, other birds, and various mammals. 
These creatures have broad wings that span up to seven feet which allows them to fly broad and fast when in pursuit of their prey. 
When it comes to weight carrying, the Harpy eagle has a lot of factors that make them such efficient predators. They have strong and powerful legs that can carry a load twice their own weight, which is how they are able to carry prey that weighs twice as much as them. 
They also have large talons that can dig straight into the flesh of their prey and keep them from wriggling away.
Can an eagle pick up a human baby?
No. Eagles are not known for attacking humans, but they will attack if provoked. If an eagle does pick up a human baby it is likely to drop them because it cannot fly with a larger load. 
Also, bald eagles only have a weight carrying capacity of up to 6-7 pounds which is much less than the average human baby.
What bird can pick up a human?
No bird species has the weight carrying capacity that is capable of picking up humans. Eagles only have a weight carrying capacity of up to 7 pounds which is very small compared to the average human being.
Harpy eagles are capable of lifting their own body weight, but even then they have never been seen trying to lift a human. 
In order for a bird species to pick up a full-grown adult, it would need a wingspan of at least 16 feet and an astonishing weight carrying capacity of up to 136 pounds.
However, they are known for attacking people if they feel like they are in danger or protecting their territory.
Related questions about birds carrying weight
How many birds would it take to lift a human?
There is no definitive answer to this question as it depends on the weight and size of the bird.
However, eagles carry an average weight of up to 6 pounds and the average weight of a human is 136 pounds so it would take 22-23 bald eagles to lift a human.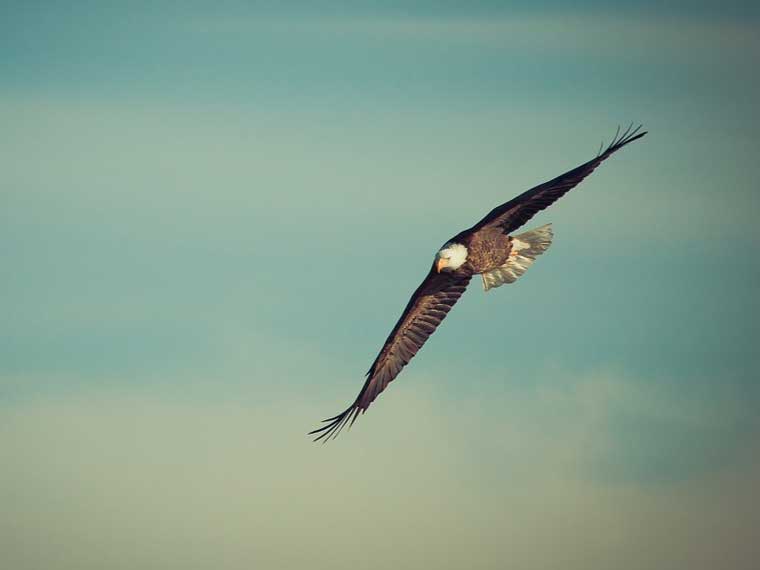 Can Eagles pick up dogs?
No. Eagles are not known for attacking dogs but if provoked, an eagle can definitely go after a dog. If the eagle does pick up the dog it is likely to drop them because eagles cannot fly with prey that is twice its weight. 
Also, bald eagles only have a weight carrying capacity of up to 6-7 pounds which is much less than the average dog.
Handy Hint: I've also looked into the truth about eagles being able to pick up cats and how likely an attack is.
Can an eagle kill a human?
Yes, it's certainly possible, but not likely. Eagles are known to be one of the most powerful birds in the world and can easily break bones with their talons. 
An eagle could very well kill a human if it was provoked or startled during an attack.
There was a report in the Mail Online about a child in Ethiopia being killed by an eagle. You can read that here.
A child in Ethiopia has died following a brutal attack at the claws of an rogue eagle, attacking residents in the district of Gaashaamo. Families in the region have been experiencing regular attacks all believed to have come from one particular bird. Two other children have been left injured after similar attacks were visited upon them.
What is the most weight an eagle can carry?
The most weight that an eagle can carry is about 6-7 pounds. Eagles have very large wingspans in comparison to their body size, which allows them to generate a great deal of lift.
Additionally, eagles have a high power-to-weight ratio, meaning they are able to fly with relatively small amounts of muscle. This helps them conserve energy while carrying heavy loads.
How much weight can an eagle carry?
An eagle's weight usually ranges between 5 and 14 pounds. However, they are capable of carrying objects that weigh up to 6 pounds which includes small mammals, fish, birds, fawns, rabbits, etc.
The largest birds of prey, such as the Harpy Eagle, are capable of carrying objects that weigh up to 20 pounds.
Can an eagle pick up a 15 lb dog?
An eagle weighing around 14 pounds is not able to pick up a 15 lb dog. These birds of prey have a weight carrying capacity of about 6-7 pounds which makes it impossible for them to lift more than that amount.
Even if they did get the opportunity, it is likely for them to drop their prey in order to maintain flight with such a weight.
Can eagles hunt mountain goats?
Mountain goats have been seen escaping from eagles by climbing at steep angles which allows them to outmaneuver the birds of prey.
However, when the conditions are not in favor of the goats they have been seen getting picked up from their ledge and dropped to their death.
It is absolutely insane because eagles drop mountain goats off a cliff where the goat cannot escape, but instead falls to its death onto rocks below.
Since eagles are not known for hunting prey that is twice their size it would need to be an ambush or very sneaky about getting close enough.
Conclusion
It's very unlikely that a human would ever get picked up by an eagle. So, you can hopefully now walk around freely without having to worry that a bird can carry your weight in flight!
You might also like…
Image in header via https://pixabay.com/photos/eagle-birds-of-prey-raptor-bird-2918835/